Tuscany Adventure

Reviewed 11 September 2018
My group and I did the 7 day tour. Trust me...this is not to be missed. Matteo made this vacation one of the most enjoyable ever. He was knowledgeable about Tuscan food and wine, attentive and responsive to our many requests. Our farmhouse accommodation was nice and comfortable, even without air conditioning. The food they served was delicious. If you can, sign up for the cooking class. It was a blast!
---
---
---
---
Explore the best of Tuscany as local in just 7 days

FULLY ESCORTED BOUTIQUE TOUR
---
---
---
---
Welcome to your new home: your very own villa apartment within a four star rustic Tuscan farmhouse.
Embark upon a cultural adventure as you explore two medieval villages, Anghiari and Arezzo.
Get a true feel for historic Tuscany and take a trip to Volterra and San Gimignano.
Embrace the ancient folklore of an authentic Tuscan village.
Experience the wonders of the true Tuscan countryside in Val D'Orcia.
Explore the fascinating city of Siena and its surroundings.
Get a real taste for Tuscany on a visit to the local wineries.
Check your accommodation here
Schedule
Saturday: Collection from Florence railway Station
Pick up ---> accommodation
Your trip will commence on Saturday, when our driver will meet you at the main entrance to Florence Central Station. First, we'll whisk you away to your new Tuscan home, a gorgeous villa apartment located within an authentic Tuscan farmhouse. During your stay in the farmhouse, you'll find yourself enveloped in lush greenery. Here, you'll find a working farm with lots of animals, a sizeable swimming pool, a restaurant for your breakfast and dinner, a laundry room and wi-fi internet access. Once a tiny village, the farmhouse is now divided into 12 private villas/apartments. Whilst all the guests will be accommodated within the farmhouse, each will have their own private lodging and facilities.
Sunday: Arezzo and Anghiari
Medieval villages ---- Arezzo  --->Anghiari
We'll kick off our week with a trip to see two wonderful towns in South-eastern Tuscany. You'll be transported by our driver and escorted by our tour manager. Once in Arezzo, our first stop, you'll have a free time to walk through the city on your own. Traditionally known for its gold-smithery, Arezzo is one of the richest cities in the region. Although its Medieval centre was largely demolished in WWII, Arezzo is still home to many fascinating churches, monuments and museums that each invite the town's visitors to take a step back in time. Housing Piero della Francesca's amazing Early Renaissance fresco cycle, the Legend of the True Cross, the Church of San Francesco is possibly the most famous church in Arezzo. Next, you'll journey uphill to see the Piazza Grande and Medici Fortress. After this, you'll take in the Cathedral dedicated to San Donato before returning downhill to see the Roman Amphitheatre and, finally, the wooden Crucifix by Cimabue in the Church of San Domenico.
Although Arezzo has a lot to offer, Tuscan tours rarely stop here. If you're staying for a week, we recommend a day trip to Arezzo and a journey into the surrounding countryside. Arezzo offers fewer tourists, more local residents and abundant treasures hidden in the castles and towns that all played a central role in the region's history. Together with your tour guide, you'll explore the town until lunchtime.
Once lunch is over, we'll continue our journey to Anghiari, where you can enjoy your Sunday afternoon. Approximately 30 km from Arezzo, Anghiari sits in the Tuscan Valtiberina valley, near the Umbrian border. A quaint medieval charm, Anghiari is perched on a stone hill, crafted throughout the centuries by the Tiber River below. Bursting with character, the town is closely guarded by its imposing 13th century walls, which have protected its medieval atmosphere and preserved its ancient identity. A stroll through Anghiari's narrow streets will immerse you in its past and splendour. With tiny windows and quaint wooden shutters and doors, the stone houses are very charming, despite some broken panes here and there. Flowers hang from many of the doorways and balconies, colouring the narrow streets and making them even more delightful. Celebrated as "one of Italy's most beautiful villages", the Italian Touring Club has awarded the village with an Orange Flag award, stating that the town represents a medieval treasure, nestled between the Tiber and the Arno rivers.
When you've seen all there is to see in Anghiari, we'll travel back towards the farmhouse for an amazing dinner.
MONDAY: San Gimignano and Volterra
Vernaccia di San Gimignano ----> Volterra --->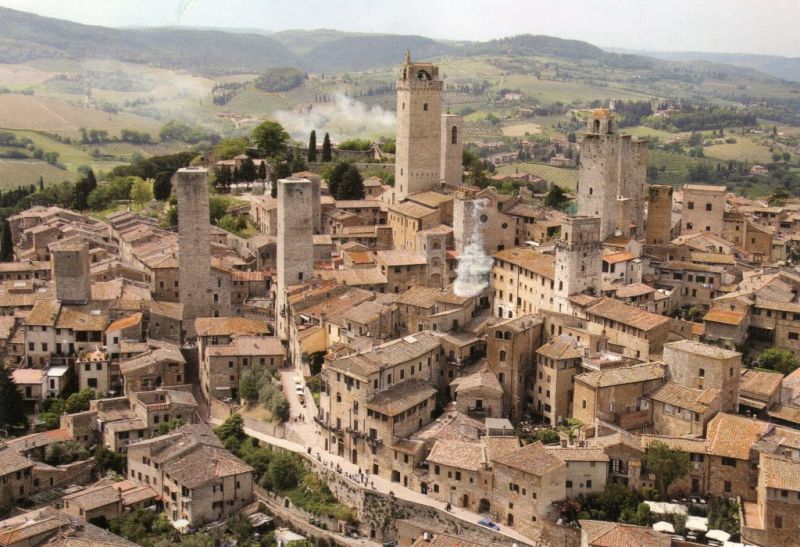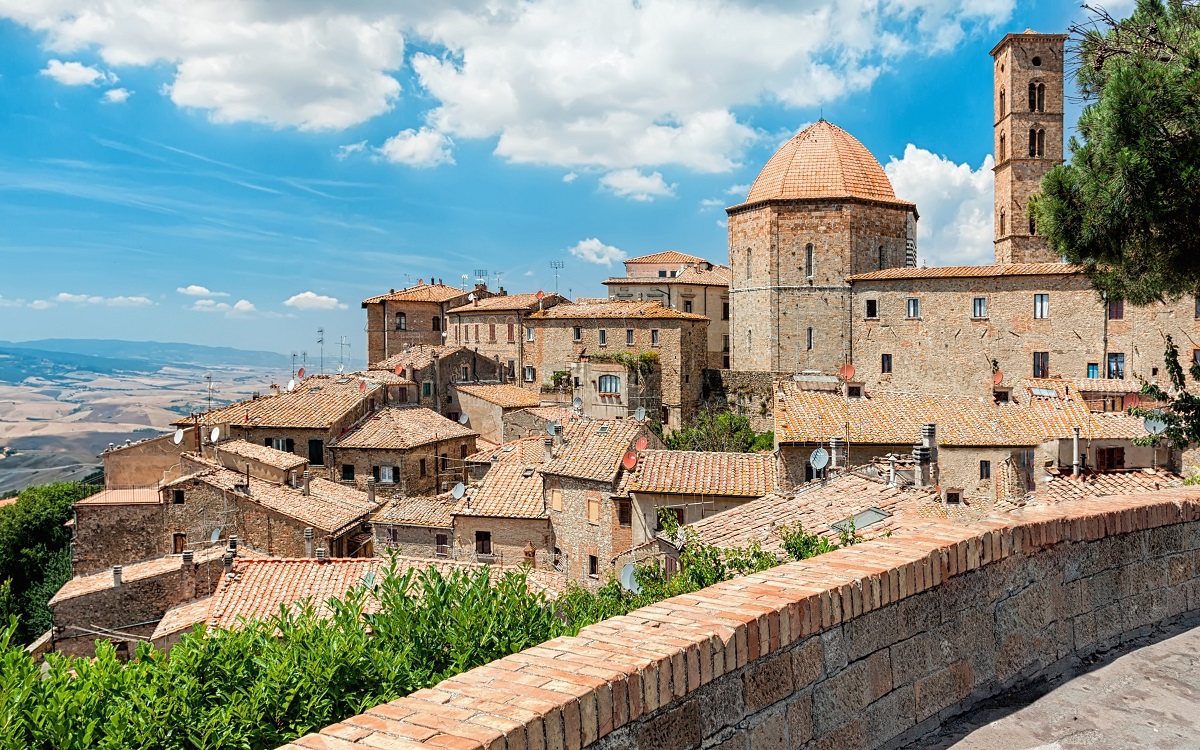 On Monday, we'll journey to San Gimignano. Sandwiched between Florence and Siena, San Gimignano is a walled town with captivating architecture and impressive medieval towers that soar above the rest of the town, providing a wonderful skyline for those in the valley beneath.
At the peak of its wealth, the aristocratic families in San Gimignano built 72 towering houses as representations of their power and affluence. Whilst there are only 14 of these towers remaining today, San Gimignano still looks and feels very feudal.
Since 1990, San Gimignano has been a UNESCO World Heritage Site and its visitors are all invited to journey back in time as they sample the local produce, including saffron and the local white wine, Vernaccia di San Gimignano.
With free time to wander the town alone, you'll be able to explore all that San Gimignano has to offer. Then, you'll be escorted by your tour manager to a family-run winery where you'll sample some of the best local produce during an excellent lunch, all washed down with a sample of the famous Tuscan white wine.
Once lunch is over, we'll journey on to Volterra before returning to the farmhouse. Sitting in the province of Pisa, Volterra is a charming town just a stone's throw from Florence, Siena and the coast. Famous for its Etruscan origins and remnants, Volterra is well-known for having an unusual urban layout, typical of its Etruscan heritage. Indeed, you can still visit part of the majestic walls that were built around the town in the 5th and 4th centuries BC. Some of these walls include the Porta all'Arco and Porta Diana, two wonderfully preserved city gates and the Acropolis that contains the foundations of two ancient temples as well as a number of other buildings. If that's not enough, there are also numerous Roman ruins for you to visit, including the Roman Theatre, built in a natural amphitheatre shape and dating back to the late 1st century AC.
Tuesday: Cookery masterclass, Florence or Cortona
Cooking class ----> Firenze--> Cortona
On the third day of our tour, you can choose between relaxing at the farm or we can organize an extra day tour in Florence or Cortona upon request. If you are interested on visiting museums, churches or any particular place in any city, it is advisable to inform us in advance as they require reservations in advance. Please, enquire to get a quote. In the evening you can enjoying a cooking class with our local chef, with whom you will prepare dinner
Wednesday: Exploring Chianti
Chianti region ---> Greve in Chianti
If you like wine, you'll love our plans for Wednesday as the day is completely devoted to wine. Together, we'll explore numerous wineries, cellars and castles and learn about the history behind the famous Chianti wine. During these visits, you'll also discover and taste the fine extra virgin olive oil produced in the region.
When we've tasted all the deliciousness Chianti has to offer, we'll move onto Greve where you'll find the most popular butcher and deli in the whole of Tuscany. This is the perfect opportunity for you to pick up some of the very best in Tuscan produce.
Dinner at the farmhouse
Thursday: Montalcino, Monticchiello and the Hot Spring
Val D'Orcia region ---> San Filippo Hot Spring--->Brunello di Montalcino 
Thursday is all about relaxation and will give you the opportunity to relax with the locals in one of Tuscany's most delightful hot springs. You'll be driven straight to the gorgeous Natural Spring "Bagni di San Filippo", situated in Val D'Orcia. You'll be transported to another world altogether as you unwind amongst the woodland, enjoying the calciferous formations, waterfalls and small hot pools that lie just outside the small town of Bagni San Filippo. The area is fairly extensive, and you'll find that that first pools you come across near the road are quite shallow. Because they're not very deep, they don't stay warm for very long. We recommend following the path into the woods for a little longer as you'll soon come across the huge calcium formation and waterfall known as the "White Whale". Nearby, hot springs reach 48°C as they rush out of the ground. Here, you'll be able to immerse yourself in nature and truly unwind.
Whilst you may choose to simply enjoy the hot spring, you could book a treatment or two at the Terme San Filippo Spa.
The spa delivers all of its services against a backdrop of sprawling park, steaming hot canals and lush vegetation typical of the Val D'Orcia countryside. On offer, you'll find numerous thermal treatments including baths, mud baths and inhalation therapies. Also, Terme San Filippo offers a number of face and body treatments and sells a range of beauty products. Once you've had lunch, we recommend taking a quick shower at the spa before preparing for some wine tasting in Montalcino, a lesson on "Brunello" red wine and a trip to discover the enchanting village of Monticchiello.
In the late afternoon, you'll be transported back to the farmhouse where you can prepare for another authentic Tuscan dinner at an on-site trattoria.
Friday: Siena and Monteriggioni
Historical tour guide in Siena ---> Old Castle of Monteriggioni
On Friday, our final day, our tour manager will take you to see the stunning city of Siena. We think that Siena is Italy's most beautiful medieval city and believe that a trip to Siena is an absolute must, even if you're only in Tuscany for a short time.
At the heart of Siena is Il Campo, the city's central piazza. Famous the world over for the Palio horse race that encircles it twice each summer, the piazza has also seen fame on the big screen, with Siena and the horse race both featuring in the James Bond title Quantum of Solace. The huge piazza once housed the Roman forum and is nestled between the three hills upon which the city is seated. It features a fan-like brick pavement that symbolizes the Madonna's cloak which is said to shelter the city. It is divided into nine sections to represent the Council of Nine, a quasi-democratic group who ruled over Siena between 1287 and 1355, when the piazza was rebuilt. The red Palazzo Pubblico and its tower, the Torre del Mangia, loom over the piazza. The Palazzo, or civic palace, was also built during the rule of the Council of Nine, along with the Duomo of Siena. Constructed between 1297 and 1310, the Palazzo still houses Siena's municipal offices, much like the Palazzo Vecchio in Florence. The Civic Museum and Torre del Mangia can both be accessed via its internal courtyard. If you find yourself with some spare energy, a brief climb up some 500 steps will provide you with a stunning view of Siena.
After lunch, we'll transport you to Monteriggioni before returning to the farmhouse for the last Tuscan dinner of your trip. In Monteriggioni, you'll find one of the largest walled castles in the region. With a wonderfully preserved structure, you could be forgiven for thinking that no time had passed on the hill from which it dominates the skyline. Carefully tucked into the province of Siena, Monteriggioni sits between Siena and Colle Val d'Elsa. With a perfectly circular perimeter, you could also be forgiven for thinking that the city's outline was man-made. In fact, the city walls simply follow the natural curves of the ground upon which they sit. The fortified wall, still intact, contains 14 towers which were once used by the guards who patrolled its length. It also contains two gates — the Florentine Gate, facing Florence, and the Franca or 'Romea' Gate, facing Rome.
Saturday: Departure to Florence rail station
Breakfast ---> Drop off
On Saturday, you'll enjoy a delicious breakfast before being safely transported to Florence railway station. It's here that we'll part ways and your Tuscan tour will conclude.
PRICES 2020, DEPOSITS, AND
PAYMENTS:
April – October AUD 3770,00 per person in Half board. Fully escorted tour.
A surcharge of 700 AUD per person will be apply if you request a "private tour".
Departures-Guarantee with a minimum of 2 guests
From the 18 Apri-17 Oct 2020: Saturdays
Starts/Ends in Florence train station
Max 8 people
(taxes included, US dollars price variable due to dollar conversion).
Single
supplement: AUD 400,00
Once we have checked the regular documentation included your travel insurance, 25%
deposit of the overall tour cost, is required. No booking will be reserved until the
prescribed deposit is received.
Balance of the payment will be due within 30 days of booking confirmation.
Deposits and balance of payments are accepted by bank transfer or credit card via
Paypal with a 4% surcharge.
A payment of a deposit indicates an acceptance of all the conditions.
ARRIVAL AND DEPARTURE TIMES:
All tours are based on a Saturday to Saturday stay with us tour
Pick up at Florence Station – Click here for more information: www.trenitalia.com
• Check IN: 3.00 pm
• Check OUT: 10.00 am
Contact us if you need advice to reach the pickup point.
TOUR GROUPS:
Our tour groups have been designed for a group of minimum 2 people and no more than
8 people per week to ensure that client needs and enjoyment is always our top priority.
INCLUDED IN TOUR COST:
1. Private Villa/Apartment in a 4 star farmhouse accommodation. HB
2. All continental breakfasts, 2 lunches at the local wineries and all dinners at the local farmhouse restaurant with set menu composed and house wine included.
3. Transfer from the local station to the accommodation and back.
4. Daily transfer with a comfortable minivan or car from the accommodation to the
different locations of the tour and back. (9 hours day tour service)
5. Bi-Lingual Hosts for the duration of your tour
6. 5 day tours to itinerary locations
7. On arrival at each location: remain as a group with tour leaders, alternatively explore independently and re-group at a pre-arranged time and location
8. Wine tasting at selected vineyards/ establishments
10. One cooking class at the farmhouse with the chef Pasquale
11. GST, Tax, Tolls, Petrol.
WHAT IS NOT INCLUDED IN TOUR COST
All items not detailed in inclusions
Personal spending
All transfers other than to the local train station
1. Airfares
2. Airport taxes
3. Travel insurance.
4. Entry fees to museums/galleries and other places wherever entry fees apply
5. All lunches and meals not specifically listed above.
6. All personal expenditure.
7. Refer to specific tour.
OPTIONAL EXTRAS:
Activities beyond the specified tours listed on this website are subject to additional costs.
HISTORICAL TOUR GUIDE. If you are interested to learn more about art and history of
any city we can engage a professional local tour guide who can explain you deeply the
history and the culture of this area. The price is 135 AUD per person (min 2 people).
Max 3 hours service. If you want included the tour guide, please, let us know at least two
weeks before the starting of the tour.
DINNER OUT WITH THE LOCAL: After each day tour, you can choose between having
dinner at the farmhouse (included on the package) or going out to a family-run trattoria
near the accommodation for a different traditional Tuscany food experience with the
local guide. You can organize the dinner out directly to your local guide during the tour.
The price for this extra service (pick-up and drop off) is 85,00 AUD per person (minimum
2 pax). The price doesn't include the dinner out.
PRICE, DEPOSIT, AND PAYMENTS
The prices shown are per person, double occupancy.
The deposit is 25% of the overall tour price or as listed on the tour booking form. This deposit is required to confirm any bookings by us. No booking will be reserved until the prescribed deposit is received.
Balance of the payment will due 30 days prior to the date of the first day of the tour you have booked. If booking within 30 days of the start of the tour the full payment must be made at the time of booking. Deposit and balance payments are accepted by bank electronic transfer, Pay pal system, credit cards (fees apply for credit cards and Pay pal). After your deposit has been accredited, we will send you an invoice with the due date for the balance pf payment. Should your final payment fail to reach us by the date specified on your invoice, we reserve the right to cancel your booking without refund.
The tour price quoted is based at the time of advertising (including foreign exchange rates) and are accordingly subject to change without notice. Tuscany Untouched tours reserves the right written notice to you to vary the cost of the tour if there is any significant change in currency exchange rates according up to 20 days prior to the first day of tour.
MINIMUN NUMBER
Unless otherwise stated, all tours are based on a minimum number of 2 travellers plus tour leader and maximum of 8. Where minimum have not been achieved on a given departure, the tour may be cancelled by Tuscany Untouched Pty Ltd.
ACCOMMODATION
Accommodation is on a Private cosy villa/apartment in a traditional Tuscany farmhouse. Single supplement may be available at an addition cost.
CANCELLATIONS AND REFUND
To cancel your tour booking, you must notify us in writing by email. If you cancel your tour booking for any reason at any stage, your 25% deposit is non-refundable. If you cancel 90 days before tour starting date: 75% of your total tour cost is refundable. If you cancel between 90 days and 60 days before tour starting date: 50% of your total tour cost is refundable for physician documented emergency medical reasons or for police documented cases of accident, flood, fire, or crime. Cancellations less than 60 days from the tour start date:100% non-refundable.
In the unlikely event that we must cancel your tour, you are entitle to a 100% refund within 2 weeks after the tour's cancellation.
Tuscany Untouched Pty Ltd has the right to decline any booking. Similarly, Tuscany Untouched Pty Ltd, may require any travellers to withdraw from the tour if in its option the actions of that traveller are or no less than 3 hours after our arrival time (2 hours for Italian Domestic Flights and Europe-bound flights).
INSURANCE
Personal travel insurance is not offered by Tuscany Untouched Pty Ltd. Travellers are requires to purchase their own comprehensive travel insurance to cover cancellation coverage, airline tickets, trip delay, lost luggage or any potential medical expenses. Before travelling, we require evidence of travel insurance and an emergency contact number for each traveller.
LUGGAGE
You are allowed one suitcase and one small carry-on bag. If you exceed this limit there may not be space in the vehicle to transport your excess luggage and it will be at your own expense to have it transported throughout the tour. We suggest that you bring a day pack for carrying water, guide books, jacket, rain gear, etc.
TRAVEL DOCUMENTS, HEALTH AND FITNESS
You are responsible for holding all valid travel documents at the time and satisfy any health, visa or other requirements that apply to places you intend to visit.
To comfortably complete our tours, you should be able to do some moderate walks over hills and be able to climb a number of stairs. We will also be doing a lot of walking in the town we visit. If you a planning a tour with us, we suggest starting moderate walking program at least 1 month before the tour.
Anyone suffering from illness or disability or undergoing treatment for any physical or medical condition, must declare the true nature of such condition at the time of booking and make arrangements for the provision pf any medication or other treatment which may be required during the tour. Failure to make such disclosure will constitute a breach of these booking condition and result in such person being excluded from the tour in which case all monies paid will be forfeit.
SPECIAL REQUIREMENTS AND MOTION SIKNESS
Please advise us of any special requirements such as dietary requirements, medical requirements etc, at the time of booking. If you get motion sickness, it is advisable to bring with you motion sickness pills, as we will be travelling along mountains roads at times.
ITINERARY
Tuscany Untouched Pty Ltd will make effort to adhere to the advertised itinerary. However, in the event of unforeseen circumstances, Tuscany Untouched Pty Ltd reserves the right to make changes to the itinerary, including previously stated accommodations, modes of transport and all other activities.
LIMITATION OF LIABILITY
No responsibility is accepted for any loss, expenses, accident, injury or damage to any person or property due to the actions or omissions of any person, or any cause, including but not limited to acts of God, acts of terrorism, war, strikes, defects in machinery, breakdown of equipment, whether quarantine, negligence, loss of baggage, or other causes beyond our control, such losses being the responsibility of the guest.
Except as required or implied by legislation Tuscany Untouched Pty Ltd gives no express warranty in relation to the tour and you acknowledge that you have not relied on any representation or warranty made by or on behalf of Tuscany Untouched Pty Ltd. To the extent that such terms and conditions may lawfully be excluded all warranties are expressly excluded. Tuscany Untouched Pty Ltd does not accept any liability for any act, omission, default or neglect by ourselves, our servents or agents or by the servants of agents of airlines or accommodation services for injury, damage or loss to persons or goods whatsoever and howsoever the same may be caused.
PERMISSION FOR PHOTOS AND VIDEO OF TRAVELLERS
You agree that our Tour Directors or representative may take photographs and film of you while you are on tour and that these may be used in our brochure, social media and/or advertising or publicity material without obtaining any further consent or payment in respect of such photographs and/or videos.
TOUR CHANGES
All information provided by Tuscany Untouched Pty Ltd regarding our tours is, to the best of our knowledge, correct. However, we reserve the right to make changes in group composition, accommodations, visits, and itineraries at any time should it become necessary or desirable. Delays, or itinerary changes caused by strikes, bad weather, traffic, or other unforeseen circumstances are beyond our control and we are not obligated to pay Travellers compensation.
RELEASE AND WAIVER OF LIABILITY
I understand and acknowledge that the recreational activities available on the Tuscany Untouched Pty Ltd may be dangerous. I understand and acknowledge that serious injury or death may result from participants in recreational activities. I agree that I PARTECIPATE at my OWN RISK.
BY SIGNING THIS WAIVER, I ACKNOWLEDGED THAT:
participation in recreational activities is a hazardous activity and may result in injury, loss, damage or death to me;
participation in recreational activities may require certain skills. I declare that I have sufficient skills to be able to safety and properly participate in the recreational activities;
Where recreational activities are held outdoors, there are risk to me as a result of the weather condition, including either extreme hot or cold weather, rain or wind;
I am responsible for ensuring that I have and will wear equipment suitable for safety and properly participating in the recreational activities.
I agree not to take drugs prohibited by law before or during participation in recreational activities.
I agree that I am in good health and free from any adverse medical conditions.
I agree to follow the directions of any instructor or any signage and that any misconduct or refusal by me to follow any direction will result in my immediate removal from the tour.
Any child under the age of 16 must be supervised at all time by a responsible adult parent and this waiver will bind both the responsible adult parent and supervised child.
I use all facilities entirely at my own risk, as I find them and with the prior acceptance of the risk of possible danger to me.
If I suffer harm while participating in any recreational activity, I will not hold Tuscany Untouched Pty Ltd, their employees or agents legally responsible for any injuries I suffer. I will not sue the supplier (Tuscany Untouched Pty Ltd), their employees or agents for any claims, costs, damages, or liability. I agree to release the Supplier and their employees from legal responsibility for the service I have been provided.
I acknowledge and agree that my participation in any recreational activities are a danger and may have inherent risks as a result of which personal injury (and sometime death) may occur and I accept and assume all such risks of personal injury or death in anyway whatsoever arising from these activities and hereby waive my individual right to sue the Supplier for all claims I or my representatives may have for such personal injury or death against the Supplier in any way whatsoever arising from or in connection with these activities.
ANIMALS:
Our tours are not pet friendly
 2019 Tour Dates 
Departures-Guarantee with a minimum of 2 guests
From the 27 April - 19  Oct 2019: Saturdays
As the availability could change, it is advisable to send your enquiries anyway.
Do You want a customized tour?
We will create an unrivalled vacation experience that will show you a side of Tuscany so very few travellers get a chance to sample for themselves.
IF YOU ARE LOOKING FOR THE PERFCT PLACE FOR YOUR BUINSESS RETREAT WE CAN HELP YOU